It's ToyotaTown's 49th Anniversary Sale! 

To celebrate, we planned 4 weekly draws consisting of 5 individual prizes, including:
$500 Gas Card, No Charge Winter Tires for your vehicle, Detailing Package,
Rust Undercoat & Paint Protection Package, Remote Start for your vehicle.





Drive away with a great deal on  the entire new 2019 Toyota line up, like the award winning and All-New 2020 Toyota Corolla or Corolla Hybrid, The All-New 2019 Toyota RAV4, the Toyota Camry and more!






| | |
| --- | --- |
| | ToyotaTown Red Tag Dasys are back in London, Ontario! You can drive away with a great deal on the entire new 2019 Toyota line up including the new 2020 Toyota Corolla! Find out more by contacting a ToyotaTown salesperson for full details! |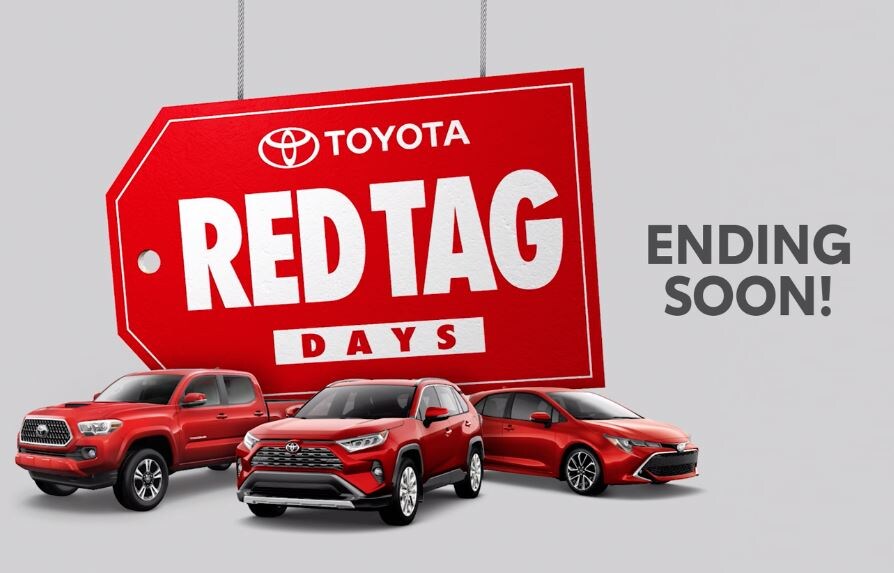 Full pricing details and eligibility at www.toyota.ca. Efforts have  been made to ensure the accuracy of the information presented above, though pricing, equipment, or other details may change at any time without notice. For more information refer to Toyota Canada's website, or consult the vehicle's owner's manual.
**Contest rules and regulations: Draw eligibility consists of all individuals that purchase a new or pre-owned and take delivery of that vehicle by July 2nd.  Draws will take place June 10, June 17, June 24 & July 3.  Possession of the vehicle must have been taken prior to each draw to be eligible.  Retail value of prizes total over $15,000 consist of 4 $500 gas cards, 4 sets no charge winter tires valued up to $1,431 each, 4 detail packages valued at $389 each, 4 protection packages valued at $1,699 each, 4 remote starts valued at $974.50 each.  4 weekly draws will consist of 5 individual draws for each individual prize listed above.  Draw winners will be reentered into future draws.  If prize was already purchased as part of the contract a refund of the amount paid for the prize will be issued. See ToyotaTown for full details.